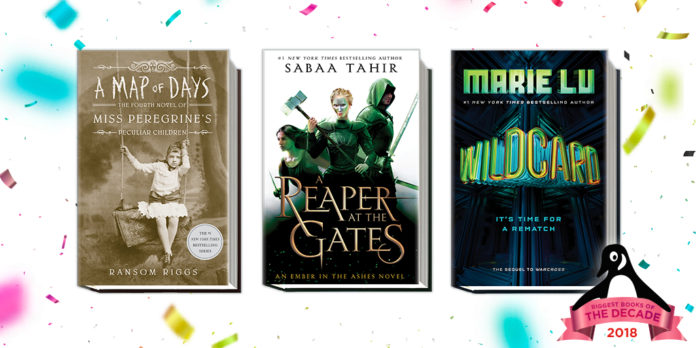 Yanny or Laurel?? Welcome to your 2018 blast from the past!
Biggest Books of 2018!
A Map of Days by Ransom Riggs
Laia is a slave. Elias is a soldier. Neither is free.Under the Martial Empire, defiance is met with death. Those who do not vow their blood and bodies to the Emperor risk the execution of their loved ones and the destruction of all they hold dear.
It is in this brutal world, inspired by ancient Rome, that Laia lives with her grandparents and older brother. The family ekes out an existence in the Empire's impoverished backstreets. They do not challenge the Empire. They've seen what happens to those who do.
But when Laia's brother is arrested for treason, Laia is forced to make a decision. In exchange for help from rebels who promise to rescue her brother, she will risk her life to spy for them from within the Empire's greatest military academy.
There, Laia meets Elias, the school's finest soldier—and secretly, its most unwilling. Elias wants only to be free of the tyranny he's being trained to enforce. He and Laia will soon realize that their destinies are intertwined—and that their choices will change the fate of the Empire itself.
A Reaper at the Gates by Sabaa Tahir
Beyond the Martial Empire and within it, the threat of war looms ever larger.
Helene Aquilla, the Blood Shrike, is desperate to protect her sister's life and the lives of everyone in the Empire. But she knows that danger lurks on all sides: Emperor Marcus, haunted by his past, grows increasingly unstable and violent, while Keris Veturia, the ruthless Commandant, capitalizes on the Emperor's volatility to grow her own power–regardless of the carnage she leaves in her path.
Far to the east, Laia of Serra knows the fate of the world lies not in the machinations of the Martial court, but in stopping the Nightbringer. But in the hunt to bring him down, Laia faces unexpected threats from those she hoped would help her, and is drawn into a battle she never thought she'd have to fight.
And in the land between the living and the dead, Elias Veturius has given up his freedom to serve as Soul Catcher. But in doing so, he has vowed himself to an ancient power that demands his complete surrender–even if that means abandoning the woman he loves.
Wildcard by Marie Lu
Emika Chen barely made it out of the Warcross Championships alive. Now that she knows the truth behind Hideo's new NeuroLink algorithm, she can no longer trust the one person she's always looked up to, who she once thought was on her side.
Determined to put a stop to Hideo's grim plans, Emika and the Phoenix Riders band together, only to find a new threat lurking on the neon-lit streets of Tokyo. Someone's put a bounty on Emika's head, and her sole chance for survival lies with Zero and the Blackcoats, his ruthless crew. But Emika soon learns that Zero isn't all that he seems–and his protection comes at a price.
Caught in a web of betrayal, with the future of free will at risk, just how far will Emika go to take down the man she loves?
Biggest Song of 2018: One Kiss by Calvin Harris & Dua Lipa
 
Biggest Movie of 2018: 
Random fun fact:
It was the year we were all really confused about who thought a Tide Pod Challenge was a good idea.