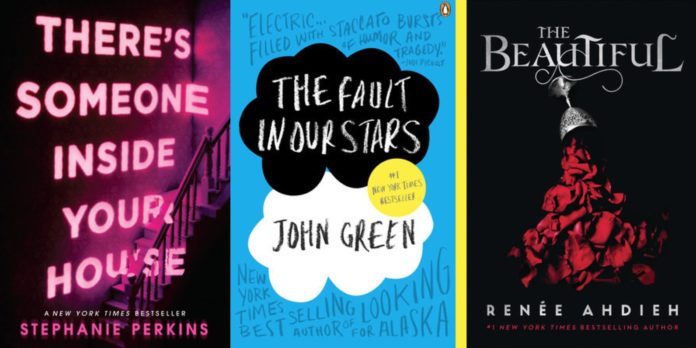 Are you a mood reader? We've got you! We've put together all the hottest 2020 reads out thus far and coming up soon for all of the reading moods!
In the mood for a fantasy that will take you away for a bit? You should read…
From #1 New York Times bestselling author Marie Lu comes a historical YA fantasy about a musical prodigy and the dangerous lengths she'll go to make history remember her–perfect for fans of Susanna Clarke and The Hazel Wood.

Two siblings. Two brilliant talents. But only one Mozart.

Born with a gift for music, Nannerl Mozart has just one wish–to be remembered forever. But even as she delights audiences with her masterful playing, she has little hope she'll ever become the acclaimed composer she longs to be. She is a young woman in 18th century Europe, and that means composing is forbidden to her. She will perform only until she reaches a marriageable age–her tyrannical father has made that much clear.And as Nannerl's hope grows dimmer with each passing year, the talents of her beloved younger brother, Wolfgang, only seem to shine brighter. His brilliance begins to eclipse her own, until one day a mysterious stranger from a magical land appears with an irresistible offer. He has the power to make her wish come true–but his help may cost her everything.
And mark your TBR for…
Perfect for fans of Victoria Aveyard and Holly Black, The Kinder Poison is an enthralling fantasy adventure that follows a teenage girl chosen to be the human sacrifice in a deadly game between three heirs who will do anything for the crown.

In the magical kingdom of Orkena, Zahru has long dreamed of a life beyond the desert, even though she knows her lowly position as a stable girl who can commune with animals will never afford her such a luxury.All that changes when the ailing ruler invokes an ancient tradition known as the Crossing. It's a death-defying race across the desert, in which the first of his heirs to finish–and take the life of a human sacrifice at the journey's end–will ascend to the throne and be granted unparalleled abilities.As preparations and celebrations commence, Zahru jumps at the chance to experience a small taste of glamour by sneaking into the palace. But the minor indiscretion quickly turns into the worst mistake of her life as she gets caught up in a feud between the heirs and is ultimately forced to become the Crossing's human sacrifice. Zahru is left with only one hope for survival: somehow figuring out how to overcome the most powerful people in the world.
In the mood to for a summer romance that will make you giggle and swoon? You should read…
The Moon and More and Just Listen, together in one volume from New York Times bestselling author Sarah Dessen!
Sometimes you think you have it all. Great friends, a loving boyfriend, and a strong sense of personal identity. But unexpected things can happen. People come and go. The appearance of a new boy in your life can turn your world upside down. It might make you throw all caution to the wind – or bring you back closer to earth. What if he is hiding secrets of his own? Is it better to be safe than sorry? From acclaimed bestselling author Sarah Dessen, here are two books about exploring your heart, giving free reign to your emotions, and rising above the expectations of others.
And mark your TBR for…
Beyond the Break by Heather Buchta – Coming June 2!
For fans of Sarah Dessen and Jenny Han, Beyond the Break is a funny and gorgeous debut about a girl experiencing her first love. Well, second, if you count her faith… and that's where things may get complicated.
Manhattan Beach native Lovette has two rules in life. One: no surfing. Not after her brother's accident. Two: absolutely, no dating. And going into her junior year of high school, she's pretty happy with that arrangement. She has friends, her church youth group, and God to fall back on when things get dicey. But after Jake Evans walks into her life, following these two simple rules gets a lot more complicated.
Jake is the boy from Lovette's childhood who grew up. Handsome and sweet, he unlocks the part of Lovette that wants nothing more than to surf the waves again. And as their relationship grows, she begins to question what it means to be faithful: to her family, to God, but mostly, to herself.
In the mood for a contemporary that will make you WEEP? You should read…
Despite the tumor-shrinking medical miracle that has bought her a few years, Hazel has never been anything but terminal, her final chapter inscribed upon diagnosis. But when a gorgeous plot twist named Augustus Waters suddenly appears at Cancer Kid Support Group, Hazel's story is about to be completely rewritten.Insightful, bold, irreverent, and raw, The Fault in Our Stars brilliantly explores the funny, thrilling, and tragic business of being alive and in love.
And mark your TBR for…
Watch Over Me by Nina LaCour – Coming September 15!
Nina LaCour delivers another emotional knockout with Watch Over Me, the much-anticipated follow-up to the Printz Award-winning We Are Okay. 

Mila is used to being alone.
Maybe that's why she said yes. Yes to a second chance in this remote place, among the flowers and the fog and the crash of waves far below.
But she hadn't known about the ghosts.
Newly graduated from high school, Mila has aged out of the foster care system. So when she's offered a teaching job and a place to live on an isolated part of the Northern California coast, she immediately accepts. Maybe she will finally find a new home—a real home. The farm is a refuge, but it's also haunted by the past. And Mila's own memories are starting to rise to the surface.From Nina LaCour the national bestselling author of We Are Okay, Watch Over Me is a modern ghost story about trauma and survival, chosen family and rebirth.
In the mood for a swoony paranormal romance? You should read…
New York Times bestselling author Renée Ahdieh returns with a sumptuous, sultry and romantic new series set in 19th century New Orleans where vampires hide in plain sight.
In 1872, New Orleans is a city ruled by the dead. But to seventeen-year-old Celine Rousseau, New Orleans is a safe haven after she's forced to flee her life as a dressmaker in Paris. Taken in by the sisters of the Ursuline convent in the middle of the carnival season, Celine is quickly enraptured by the vibrant city, from its music to its fancy soirées and even its danger. She becomes embroiled in the city's glitzy underworld, known as La Cour des Lions, after catching the eye of the group's enigmatic leader, Sébastien Saint Germain.
When the body of one of the girls from the convent is found in Sébastien's own lair–the second dead girl to turn up in recent weeks–Celine battles her attraction to Sébastien and suspicions about his guilt along with the shame of her own horrible secret.
After a third murder, New Orleans becomes gripped by the terror of a serial killer on the loose–one who has now set Celine in his sights. As the murderer stalks her, Celine finally takes matters into her own hands, only to find herself caught in the midst of an age-old feud between the darkest creatures of the night, where the price of forbidden love is her life.
And mark your TBR for…
The Damned by Renée Ahdieh – Coming July 7!
Following the events of The Beautiful, Sébastien Saint Germain is now cursed and forever changed. The treaty between the Fallen and the Brotherhood has been broken, and war between the immortals seems imminent. The price of loving Celine was costly.
But Celine has also paid a high price for loving Bastien. Still recovering from injuries sustained during a night she can't quite remember, her dreams are troubled. And she doesn't know she has inadvertently set into motion a chain of events that could lead to her demise and unveil a truth about herself she's not ready to learn.
Forces hiding in the shadows have been patiently waiting for this moment. And just as Bastien and Celine begin to uncover the danger around them, they learn their love could tear them apart.
In the mood for a thriller that make you fall right off the edge of your seat? You should read…
If I Stay meets One of Us is Lying in this gripping contemporary thriller.

When band-geek Ivy and her friends get together, things start with a rousing board game and end with arguments about Star Wars.Her older sister Autumn is a different story. Enigmatic, aloof, and tough as nails, Autumn hasn't had real friends–or trusted anyone–in years. Even Ivy.But Autumn might not be tough enough. After a drug deal gone wrong, Autumn is beaten, bound, and held hostage. Now, trapped between life and death, she leaves her body, seeking help. No one can sense her presence–except her sister.When Autumn doesn't come home, Ivy just knows she's in trouble. Unable to escape the chilling feeling that something isn't right, Ivy follows a string of clues that bring her closer to rescuing her sister… and closer to danger.Autumn needs Ivy to find her before time runs out. But soon, both sisters realize that finding her also means untangling the secrets that lead to the truth–about where they're hiding Autumn, and what Autumn has been hiding.
And mark your TBR for…
Gossip Girl meets One of Us Is Lying with a dash of The Secret History in this slick, taut murder mystery set against the backdrop of an exclusive prep school on Long Island.

In Gold Coast, Long Island, everything from the expensive downtown shops to the manicured beaches, to the pressed uniforms of Jill Newman and her friends, looks perfect. But as Jill found out three years ago, nothing is as it seems.Freshman year Jill's best friend, the brilliant, dazzling Shaila Arnold, was killed by her boyfriend. After that dark night on the beach, Graham confessed, the case was closed, and Jill tried to move on.Now, it's Jill's senior year and she's determined to make it her best yet. After all, she's a senior and a Player–a member of Gold Coast Prep's exclusive, not-so-secret secret society. Senior Players have the best parties, highest grades and the admiration of the entire school. This is going to be Jill's year. She's sure of it.But when Jill starts getting texts proclaiming Graham's innocence, her dreams of the perfect senior year start to crumble. If Graham didn't kill Shaila, who did? Jill vows to find out, but digging deeper could mean putting her friendships, and her future, in jeopardy.
In the mood for some witchy magic? You should read…
In this gripping, romantic sequel to These Witches Don't Burn, Hannah must work alongside her new girlfriend to take down the Hunters desperate to steal her magic.

Hannah Walsh just wants to finish high school. It's her senior year, so she should be focusing on classes, hanging out with her best friend, and flirting with her new girlfriend, Morgan. But it turns out surviving a murderous Witch Hunter doesn't exactly qualify as a summer vacation, and now the rest of the Hunters seem more intent on destroying her magic than ever.When Hannah learns the Hunters have gone nationwide, armed with a serum capable of taking out entire covens at once, she's desperate to help. Now, with witches across the country losing the most important thing they have–their power–Hannah could be their best shot at finally defeating the Hunters. After all, she's one of the only witches to escape a Hunter with her magic intact.Or so everyone believes. Because as good as she is at faking it, doing even the smallest bit of magic leaves her in agony. The only person who can bring her comfort, who can make her power flourish, is Morgan. But Morgan's magic is on the line, too, and if Hannah can't figure out how to save her–and the rest of the Witches–she'll lose everything she's ever known. And as the Hunters get dangerously close to their final target, will all the Witches in Salem be enough to stop an enemy determined to destroy magic for good?
And mark your TBR for…
A Wicked Magic by Sasha Laurens – Coming July 28!
The Chilling Adventures of Sabrina meets The Craft when modern witches must save teens stolen by an ancient demon in this YA fantasy-thriller debut.
Dan and Liss are witches. The Black Book granted them that power. Harnessing that power feels good, especially when everything in their lives makes them feel powerless.
During a spell gone wrong, Liss's boyfriend is snatched away by an evil entity and presumed dead. Dan and Liss's friendship dies that night, too. How can they practice magic after the darkness that they conjured?
Months later, Liss discovers that her boyfriend is alive, trapped underground in the grips of an ancient force. She must save him, and she needs Dan and the power of The Black Book to do so. Dan is quickly sucked back into Liss's orbit and pushes away her best friend, Alexa. But Alexa has some big secrets she's hiding and her own unique magical disaster to deal with.
When another teenager disappears, the girls know it's no coincidence. What greedy magic have they awakened? And what does it want with these teens it has stolen?
In the mood for a sci-fi that will blow your mind? You should read…
Sixteen tales by bestselling and award-winning authors that explore the Black experience through fantasy, science fiction, and magic. With stories by: Elizabeth Acevedo, Amerie, Patrice Caldwell, Dhonielle Clayton, J. Marcelle Corrie, Somaiya Daud, Charlotte Nicole Davis, Justina Ireland, Alaya Dawn Johnson, Danny Lore, L. L. McKinney, Danielle Paige, Rebecca Roanhorse, Karen Strong, Ashley Woodfolk, and Ibi Zoboi.

Evoking Beyoncé's Lemonade for a teen audience, these authors who are truly Octavia Butler's heirs, have woven worlds to create a stunning narrative that centers Black women and gender nonconforming individuals. A Phoenix First Must Burn will take you on a journey from folktales retold to futuristic societies and everything in between. Filled with stories of love and betrayal, strength and resistance, this collection contains an array of complex and true-to-life characters in which you cannot help but see yourself reflected. Witches and scientists, sisters and lovers, priestesses and rebels: the heroines of A Phoenix First Must Burn shine brightly. You will never forget them.
And mark your TBR for…
Andra wakes up from a cryogenic sleep 1,000 years later than she was supposed to, forcing her to team up with an exiled prince to navigate an unfamiliar planet in this smart, thrilling sci-fi adventure, perfect for fans of Renegades and Aurora Rising.

When Andra wakes up, she's drowning.Not only that, but she's in a hot, dirty cave, it's the year 3102, and everyone keeps calling her Goddess. When Andra went into a cryonic sleep for a trip across the galaxy, she expected to wake up in a hundred years, not a thousand. Worst of all, the rest of the colonists–including her family and friends–are dead. They died centuries ago, and for some reason, their descendants think Andra's a deity. She knows she's nothing special, but she'll play along if it means she can figure out why she was left in stasis and how to get back to Earth.Zhade, the exiled bastard prince of Eerensed, has other plans. Four years ago, the sleeping Goddess's glass coffin disappeared from the palace, and Zhade devoted himself to finding it. Now he's hoping the Goddess will be the key to taking his rightful place on the throne–if he can get her to play her part, that is. Because if his people realize she doesn't actually have the power to save their dying planet, they'll kill her.With a vicious monarch on the throne and a city tearing apart at the seams, Zhade and Andra might never be able to unlock the mystery of her fate, let alone find a way to unseat the king, especially since Zhade hasn't exactly been forthcoming with Andra. And a thousand years from home, is there any way of knowing that Earth is better than the planet she's woken to?
In the mood for hard-hitting realistic YA fiction? You should read…
A poignant novel of desperation, escape, and survival across the U.S.-Mexico border, inspired by current events.
Pulga has his dreams.
Chico has his grief.
Pequeña has her pride.
And these three teens have one another. But none of them have illusions about the town they've grown up in and the dangers that surround them. Even with the love of family, threats lurk around every corner. And when those threats become all too real, the trio knows they have no choice but to run: from their country, from their families, from their beloved home.
Crossing from Guatemala through Mexico, they follow the route of La Bestia, the perilous train system that might deliver them to a better life–if they are lucky enough to survive the journey. With nothing but the bags on their backs and desperation drumming through their hearts, Pulga, Chico, and Pequeña know there is no turning back, despite the unknown that awaits them. And the darkness that seems to follow wherever they go.
In this striking portrait of lives torn apart, the plight of migrants at the U.S. southern border is brought to light through poignant, vivid storytelling. An epic journey of danger, resilience, heartache, and hope.
And mark your TBR for…
Perfect for fans of Rory Power and Laurie Halse Anderson, this sharp, emotional debut follows two girls as they navigate tumultuous relationships, the effects of trauma, and what empowerment means to them.

Ali Greenleaf and Blythe Jensen couldn't be more different.Ali is sweet, bitingly funny, and just a little naive. Blythe is beautiful, terrifying, and the most popular girl in school. They've never even talked to each other, until a party when Ali decides she'll finally make her move on Sean Nessel, her longtime crush and the soccer team's superstar. But Sean pushes Ali farther than she wants to go. When she resists–he rapes her.Blythe sees Ali when she runs from the party, everyone sees her. And Blythe knows something happened with Sean; she knows how he treats girls. Even so, she's his best friend, his confidant. When he begs her to help him, she can't resist.

So Blythe befriends Ali in her attempt to make things right with Sean, bringing Ali into a circle of ruthless popular girls, and sharing her own dark secrets. Despite the betrayal at the heart of their relationship, they see each other, in a way no one ever has before.In her searing, empowering debut novel, Hayley Krischer tells the story of what happened that night, and how it shaped Ali and Blythe forever. Both girls are survivors in their own ways, on their own terms, and while their friendship might not be built to last, it's one that helps each of them find a way forward.
In the mood for historical fiction that will transport you to another time? You should read…
A sweeping, multi-layered romance set in the perilous days of World Wars I and II, where gods hold the fates–and the hearts–of four mortals in their hands.
They are Hazel, James, Aubrey, and Colette. A classical pianist from London, a British would-be architect turned soldier, a Harlem-born ragtime genius in the U.S. Army, and a Belgian orphan with a gorgeous voice and a devastating past. Their story, as told by the goddess Aphrodite, who must spin the tale or face judgment on Mount Olympus, is filled with hope and heartbreak, prejudice and passion, and reveals that, though War is a formidable force, it's no match for the transcendent power of Love.
And mark your TBR for…
The Jewel Thief by Jeannie Mobley – Coming May 26!
A lush, slow-burn romance set in 17th century France, and based on the history of the Hope Diamond–The Glittering Court meets Alex and Eliza.

Her story begins . . . in Paris. The only daughter of the King's crown jeweler, Juliette marvels at the large, deep-blue diamond Louis XIV has commanded her father to make shine like the sun. But Jean Pitau has never cut a diamond quite like this, and shaping it is a risky endeavor. As Jean spirals into depression, Juliette takes it upon herself to cut the stone, and with every misstep, brings her family closer to ruin.Her story resumes . . . in a cold, dark cell of the Bastille prison. Charged with stealing the King's diamond, Juliette has but one chance to convince him that her motives were pure. If she fails, this night may very well be her last. Though, death wouldn't be her worst fate. Because recording Juliette's confession is René, a court-appointed scribe, and the man she loves. But René holds his own grudge against Juliette, and this is her one and only chance to win back his heart.
In the mood for a horror that will keep you up ALL NIGHT? You should read…

It's been almost a year since Makani Young came to live with her grandmother in landlocked Nebraska, and she's still adjusting to her new life. And still haunted by her past in Hawaii.
Then, one by one, the students of her small town high school begin to die in a series of gruesome murders, each with increasing and grotesque flair. As the terror grows closer and the hunt intensifies for the killer, Makani will be forced to confront her own dark secrets.
Stephanie Perkins, bestselling author of Anna and the French Kiss, returns with a fresh take on the classic teen slasher story that's fun, quick-witted, and completely impossible to put down.
And mark your TBR for…
The Companion by Katie Adler – Coming August 25!
The other orphans say Margot is lucky.

Lucky to survive the horrible accident that killed her family.

Lucky to have her own room because she wakes up screaming every night.

And finally, lucky to be chosen by a prestigious family to live at their remote country estate.

But it wasn't luck that made the Suttons rescue Margot from her bleak existence at the group home.  Margot was handpicked to be a companion to their silent, mysterious daughter, Agatha. At first, helping with Agatha–and getting to know her handsome older brother–seems much better than the group home. But soon, the isolated, gothic house begins playing tricks on Margot's mind, making her question everything she believes about the Suttons . . . and herself.

Margot's bad dreams may have stopped when she came to live with Agatha – but the real nightmare has just begun.